You must ensure your device is safe and secure, but you also want something comfortable to carry around. That's why the best laptop backpacks for travel are essential; they provide both convenience and protection when you're on the go.
With many available options, deciding which backpack is right for you can take time and effort. Factors like size, design, and material should all be taken into account when selecting a bag that fits your needs.
Whether you're looking for an everyday backpack or one specifically designed for travel, there's something out there that will meet your requirements.
The following list of the best laptop backpacks for travel contains several top-rated bags with features such as water-resistant fabric, plenty of pockets and compartments to store accessories, adjustable straps, and more.
Our team has carefully researched each product to ensure maximum comfort while providing superior protection from the elements. We've included a variety of styles from popular brands like Nomatic and Lowepro, so no matter what type of traveler you are — business or leisure — we have something perfect for your next trip. So whether it's a short or longer journey, you can be sure your laptop is secure and comfortable with the perfect backpack for your travels.
Related: Best Carry-On Luggage with a Laptop Compartment
Best Laptop Backpacks for Travel in 2023
1. Nomatic Travel Pack 20L
The Nomatic Travel Pack is a top-of-the-line laptop backpack designed for those who need to transport their laptops and other devices when they travel.
This TSA-approved pack has many features that make it the perfect choice for anyone looking to get around in style.
The main compartment of this bag fits up to a 16-inch laptop, while the tech organization compartment offers storage options like YKK zippers and pockets. With enough space for 1–3 days for your laptop and clothes, you won't have to sacrifice any convenience or comfort on your next trip.
The durability of this backpack is unsurpassed; it's made out of water-resistant materials with double stitching throughout so that you can trust the quality each time you reach its depths.
Additionally, features like an internal sunglasses case and key leash are added, so nothing important gets left behind.
And if all that wasn't enough — its stylish design will help you look great wherever life takes you next.
No matter your lifestyle or destination, the Nomatic Travel Pack provides ultimate protection and peace of mind knowing everything is safe inside its durable exterior walls.
It's an ideal companion for students, vacation goers, adventurers — anyone looking for maximum security without compromising mobility. With its sleek and fashionable design, you can look good while feeling organized and protected from the elements.
The Nomatic Travel Pack is perfect for anyone who needs to stay connected while carrying their laptop in style. It offers unbeatable protection, organization, and travel-friendly features, making it an essential part of any traveler's wardrobe.
This backpack is the ultimate companion — keeping your valuable devices safe and sound no matter where life takes you.
2. Horizn Studios SoFo Backpack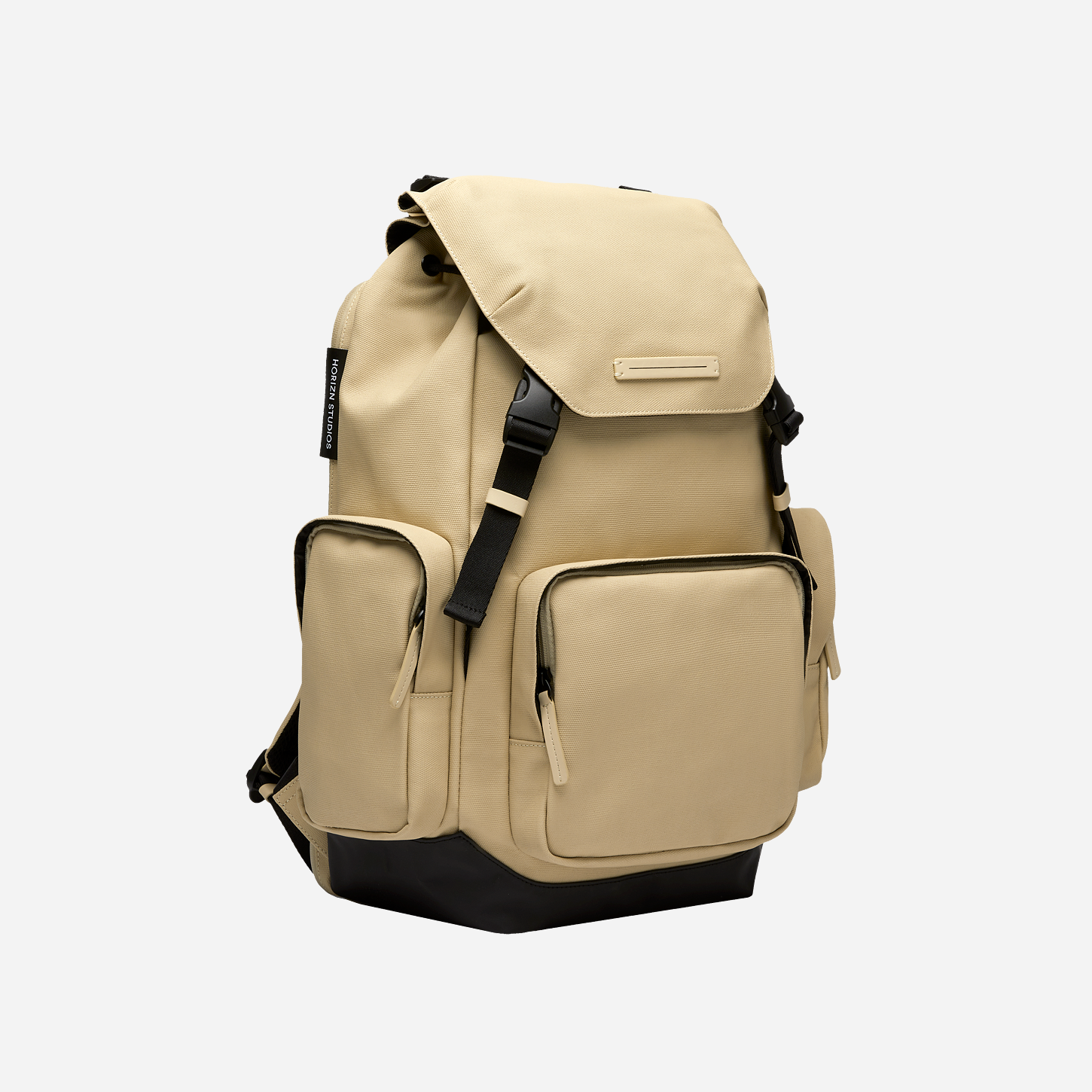 The Horizn Studios SoFo Backpack is an innovative and stylish laptop bag that meets the highest quality standards and can fit a 16-inch laptop. It's PETA-approved, vegan, water-resistant, and lightweight, with a recycled water-sealed cotton canvas base and lining.
The backpack has modern features like expandable storage for up to five days of travel, breathable mesh padding on the back, and shoulder straps for extra comfort when carrying heavy loads. It also has easy access to hidden rear pockets and cleverly designed side and front pockets so you can quickly grab whatever items you need without digging around your bag all day.
Plus, this designer laptop backpack arrives with carbon-neutral shipping and a two-year warranty — meaning that it's built to last — plus bonus points: by purchasing this product, you help contribute towards animal cruelty prevention and protect the environment.
So not only will you be adding an incredibly convenient piece of designer gear, but in doing so, you are contributing positively towards global advocacy efforts, which is always appreciated.
3. Tortuga Travel Backpack 30L
The Tortuga Travel Backpack is a perfect set of features for every frequent traveler. Crafted with durability and convenience in mind, this stylish backpack is sure to last your journey no matter the destination or duration.
This backpack fits up to a 16-inch laptop and offers plenty of storage space with 30 liters of capacity, making it ideal for 2-5 nights away. The lightweight design allows you to fit in overhead airline cabin bins without worrying about extra fees from checked luggage. Moreover, two external water bottle pockets make traveling even more effortless.
Because Tortuga understands that your belongings can take a beating on long trips, they ensured this bag would be tough enough for anything life throws at you.
Made with durable waterproof fabric and water-resistant zippers so spills won't get inside, as well as best-in-class buckles for added security — you won't have to worry whether your belongings are safe during transit.
Worried about getting stuck somewhere? Don't sweat it. All Tortuga products come backed by their Worldwide Warranty — so wherever work or travel takes you, they've got you covered.
All in all, if you're looking for convenient packing and an eye-catching design, the Tortuga Travel Backpack has got you covered.
4. Della Goa Travel Laptop Backpack
Introducing the Della Goa Travel Laptop Backpack — a budget and versatile backpack perfect for any traveler.
This bag features more than 20 independent pockets, allowing ample space to pack all necessary items. It fits a 17-inch laptop with ease, while its theft-proof combination lock and durable metal zippers keep everything safe and secure. Now you'll never have to worry about someone stealing your valuables.
The best budget laptop backpack for travel is designed with comfort in mind; the padded mesh back panel provides ventilation and evenly distributes weight throughout the bag, ensuring you don't feel uncomfortable even after long journeys.
Its USB charging port allows you to easily plug in an external battery or charger if needed giving it added versatility on longer trips.
The adjustable shoulder straps are thickly cushioned, providing extra comfort plus offering various storage options that make packing much more effortless.
Designed for maximum protection and convenience, the Della Goa Travel Laptop Backpack provides excellent value and peace of mind when traveling near or far — perfect for students, professionals, or leisure travelers. With its spacious compartments, pocket designs, and rock-solid construction quality build, this backpack is the perfect travel companion.
5. Thule EnRoute
The Thule EnRoute is a backpack designed to make traveling more accessible and efficient while protecting your technology. The main pocket will protect up to a 15.6″ laptop and a 10.5" tablet in the TPU pocket for small wet or dirty items you may need on the journey.
Additionally, it can be attached to rolling luggage if needed with a limited lifetime warranty as an assurance of quality.
The comfort of carrying this bag is thanks to features like a sternum strap, padded back panel with airflow channel, and side compression straps that balance the load more evenly.
It's constructed with Bluesign-approved 400D nylon fabric and YKK zippers for added durability and water resistance so you can travel confidently, knowing your belongings are safe from the elements.
On top of all this, it's made in Sweden, where people specialize in fine craftsmanship — meaning it'll last and look great too.
Whether you're doing some business traveling or hiking around town, Thule EnRoute has got you covered.
With enough space for everything from laptops and tablets to clothes or other accessories, plus securely fits them inside comfortably, ensuring nothing gets lost while traveling.
Plus, having that extra little piece of mind by being able to attach it to rolling luggage saves having to lug around extra items.
The Thule EnRoute has been crafted with quality and longevity, making it the perfect option for anyone needing a reliable bag to take wherever they go. With its sleek yet sophisticated design, comfortability, and water resistance, you'll have a safe, stylish, and easy day out.
And if you're ever unsatisfied with your purchase, know that Thule offers a limited lifetime warranty, so there's no need to worry about anything other than having a fantastic experience.
So pick up the Thule EnRoute backpack today and prepare for your next adventure.
6. Nomatic Navigator Travel Backpack 32L
The Nomatic Navigator Travel Backpack is the perfect choice for any business traveler. With its 32-liter capacity and expandability of up to 41 liters, it can accommodate up to a 16-inch laptop (max) and ensures you have all your essential items when on the go.
This backpack features durable, water-resistant zippers, so your belongings stay safe. It also includes several tamper-resistant zippers as an added layer of security against theft.
And thanks to its abundant space, this bag will fit everything you need – from clothes and shoes for three to five days away to an entire workstation complete with a laptop or tablet — making it ideal for those longer trips such as a workcation.
Despite all this storage capacity and versatility, The Navigator meets carry-on size requirements, so there's no worrying about misusing your bag in transit.
Thoughtfully designed inside and out, this bag has straps that keep cords tangle-free while offering back support — ensuring comfort over long distances. Add top-level construction that ensures every stitch holds firm no matter how much weight or wear & tear is applied; the Nomatic Navigator travel backpack gives peace of mind without compromising quality.
Whether traveling for business or pleasure, the Nomatic Navigator Travel Backpack is the ideal companion to ensure you have everything you need — and more.
With ample storage capacity, sleek design, and durable construction, this bag will keep all your valuables safe and close at hand. Get yours today and hit the road in style.
7. Horizn Studios Gion Backpack Light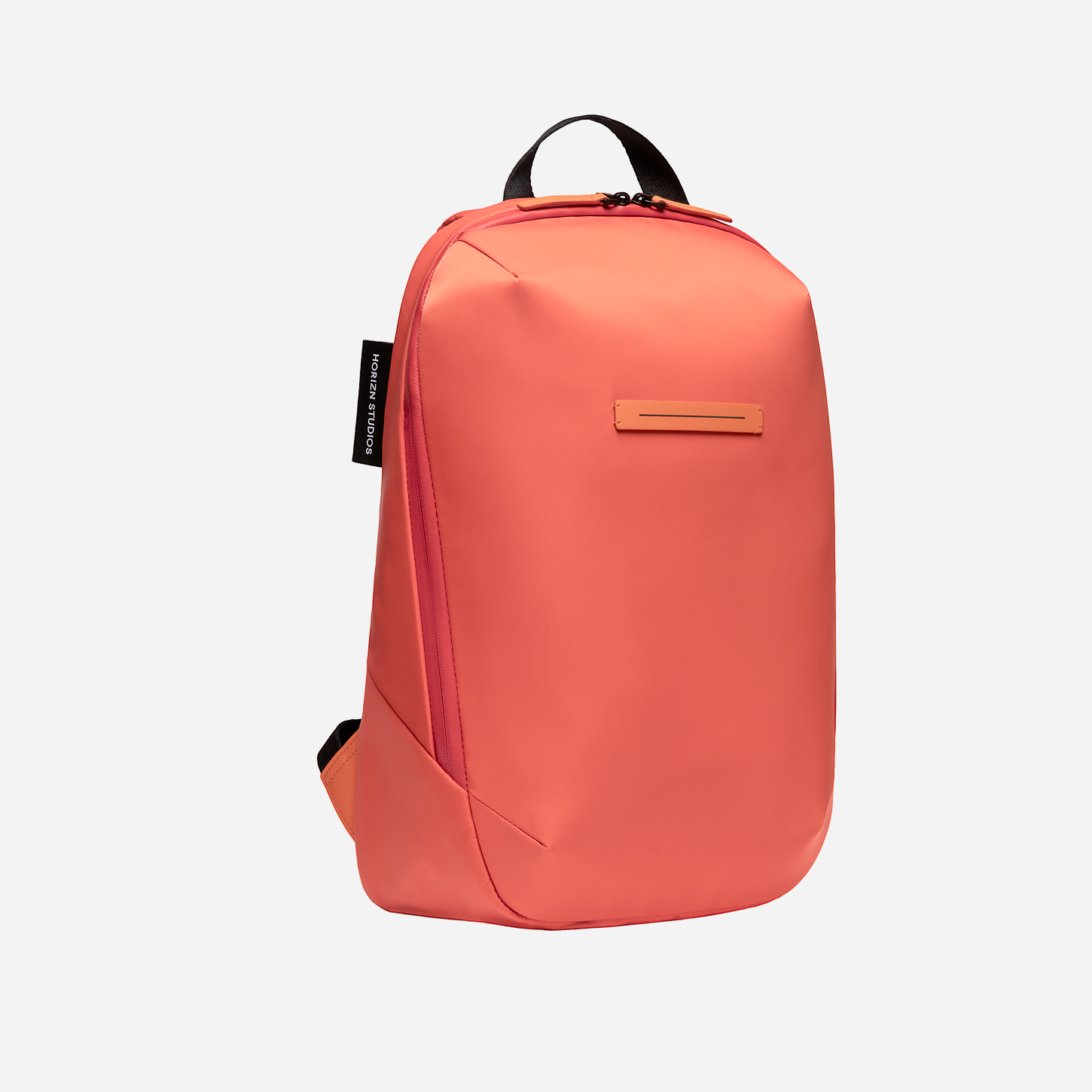 The Horizn Studios Gion Backpack Light is a stylish, PETA-approved vegan laptop backpack that will comfortably fit most laptops up to 16 inches.
It's designed with the busy traveler in mind and made from 100% recycled nylon and polyester lining, making it water-resistant and UV-resistant.
The ergonomically padded back provides ultimate comfort while exploring your destination.
Additionally, customers can have peace of mind knowing their purchase directly helps prevent animal cruelty and protects the environment.
This designer laptop backpack isn't just exquisitely designed but also lightweight enough for travel without being bulky or taking away precious packing space. With carbon-neutral shipping and a two-year warranty included in each purchase, this is one product every style-conscious traveler should have.
So go ahead – Get yourself a pack that looks good, feels great — and does even better by animals. The Horizn Studios Gion Backpack Light is the best lightweight laptop backpack for travel at 580g (1.3 pounds).
8. Samsonite Armage II Travel Backpack
Introducing the Samsonite Armage II Travel Backpack — a must-have accessory for any adventure. It is designed with convenience and ease of use so you can enjoy hands-free travel with peace of mind. This backpack is made from 100% post-consumer recycled PET bottles, making it an environmentally friendly option that helps reduce landfill waste.
The spacious main storage compartment features a padded laptop sleeve that can fit up to 15.6- Inch laptop models, plus plenty of room to store other items you need during your travels, such as books or electronics. There's also a hidden passport pocket at the back for safekeeping and an accessible sunglass loop on one side for easy access.
To ensure the safety and protection of all your belongings inside this bag, Fuzion zippers by YKK are used, which create an extra seal between two zipper pulls that makes it almost impossible to break into your bag without damaging the contents inside.
And if you ever have any issues with its quality or durability, don't worry, as Samsonite offers a Limited 10-Year Global Warranty, which covers most manufacturing defects under normal conditions (exclusions apply).
So get ready now to explore the world while enjoying comfort and security with the Samsonite Armage II Travel Backpack. With its stylish design and practical features, this bag is the perfect choice for any traveler.
9. Shrradoo Travel Laptop Backpack 52L
The Shrradoo Extra Large Travel Laptop Backpack is designed to hold all your essentials while keeping them safe and organized. This backpack packs a whopping 52-liter capacity, perfect for carrying a laptop, multiple gadgets, documents, books, and even clothing.
With its robust construction made from water-resistant heavy-duty material built to last through any journey, you can trust in this bag's protection.
The main feature of the backpack is its padded laptop compartment which can fit up to a 17-inch laptop or tablet. You no longer need to worry about your device getting damaged during travel or transport as this pocket also includes an additional pouch for storing accessories such as a mouse or charging cords.
Furthermore, with an external USB port on the bag, there's no need to search for power outlets everywhere — connect it directly and charge without hassle.
For added convenience and security when traveling long distances, there are two adjustable chest straps with quick-releasing buckles along with foam padded shoulder straps that make carrying easier on your joints over time — further accentuating comfortability would be air mesh back padding ensuring breathable fabric against your body at all times while wearing the pack.
Whether heading off somewhere far away or commuting around town, the Shrradoo Extra Large Travel Laptop Backpack lets you do it in style and comfort.
10. Lowepro Whistler Backpack 450 AW II
The Lowepro Whistler Backpack 450 AW II is a top-of-the-line adventure traveler's dream bag. This backpack has several features designed to make your journey and exploration more accessible.
It can store a DSLR with a 70-200mm lens, GoPro, or DJI Mavic 2 Pro or Zoom drone while the CradleFit compartment safely safeguards up to a 15-inch laptop.
The 36L volume provides enough space for all your essentials, like clothes and other gadgets. Plus, it supports attaching heavy equipment such as skis, axes, and tripods without compromising comfort or convenience.
Additionally, the bag is TSA carry-on ready, making it ideal for air travel if you don't want to check in your luggage.
On top of that, the UltraCinch technology helps secure extra loads when needed by tightening everything down quickly and easily from one central point at the back panel using an adjustable strap system, so you can focus more on getting where you need to go instead of worrying about your things moving around in transit.
These combined features make this rucksack perfect for experienced travelers constantly exploring new places outdoors.
Conclusion
When choosing the best laptop backpack for travel, there's no one-size-fits-all option.
Everyone has different needs and preferences when looking for a bag that can handle all their electronics while on the go. Whether you prioritize style, comfort, or protection from the elements, you should be able to find something that meets your criteria among these top picks.
By considering features like water resistance, adjustable straps, and secure pockets with roomy compartments for storage, you can ensure your laptop is safe during any journey you take this year.
With these excellent choices in mind — plus our helpful guide — anyone should be able to find just what they need to enjoy their travels safely and comfortably.
---
Frequently Asked Questions
Do TSA-approved laptop bags work?
Every airline traveler knows the hassle of taking their laptop out of their bag to clear security. We've all been there squinting at the signage, wondering if our bag is amongst the lucky few that will be allowed entry without its owner having to pause for an extra moment and unpack it from its enclosure.
The TSA-approved laptop bags promise a solution to this problem — many luggage websites claim these bags are recognized and therefore allow your laptop to stay within them during inspections.
But of course, this isn't entirely true; while they may reduce any issues at more minor airports, you'll still have to remove your laptop and place it in a separate bin.
This is a bit of misdirection that may leave passengers scratching their heads when faced with yet another layer of security check procedures.
What is the best laptop backpack for travel?
If you're looking for the best laptop backpack for travel, turn your attention to the Nomatic Travel Pack.
With its 16-inch laptop compartment, durable and water-resistant material, and TSA-ready design, this bag is perfect for business travelers and weekend adventurers.
The bag is excellent for carrying all the essentials: clothes and accessories for 1-3 days' worth of travel. Make sure your trusty laptop safely accompanies you wherever you go with the best laptop backpack on the market.