Are you looking for the perfect travel companion? Something that won't take up too much space but still has enough compartments to fit in your laptop and all the other essentials needed for a trip away? Well, you are in luck. We've compiled an overview of the best carry-on suitcases with a laptop compartment — providing you with a suitcase and storage solution, all rolled into one.
So you can rest assured that not only will it keep your gadgets safe and sound during travels, but also prevent any added stress at check-in. Now let's review the best laptop suitcases.
Top Carry-On Luggage with a Laptop Compartment at a Glance
1. Best Budget Laptop Carry-On: Aerotrunk Pangolin Carry-On
2. Best Business Laptop Carry-On: Nomatic Carry-On Pro
3. Best Sustainable Laptop Carry-On: Horizn Studios M5 Editor's Choice
4. Best Designer Laptop Carry-On: Arlo Skye Zipper Carry-On Max
5. Best Underseat Laptop Carry-On: Samsonite Underseat Carry-On
6. Best Luxury Laptop Carry-On: RIMOWA Essential Sleeve Cabin
7. Best 17-Inch Laptop Carry-On: Travelpro Crew VersaPack Max
8. Best Hardside Laptop Carry-On: Level8 Pro Carry-On
How to Choose a Cabin Suitcase with a Laptop Compartment
Picking the perfect suitcase, especially if you're taking along your laptop, can make or break your vacation or business trip.
With so many cabin suitcases flooding the market, it can seem daunting to select the right one for you; but as long as you know what to look out for, you'll be sailing towards a stress-free trip.
Make sure to check the size and airline carry-on compatibility of any luggage before considering it further.
Knowing just the basics of suitcase construction materials is also beneficial when selecting your cabin bag: Polycarbonate is typically light and strong while canvas material has multiple compartments and adjustable straps inside, allowing for plenty of storage flexibility.
Most laptop compartments are already built in nowadays but it's worth double-checking features such as shock absorbers that will help protect vital items during rough journeys too.
All that being said, remember to pick one with enough room for every essential item and always try to get some extra space.
Best Carry-On Suitcases with a Laptop Compartment: Detailed Reviews
Don't consider putting your laptop in your checked luggage during your next flight. Bringing a laptop in checked baggage means leaving it vulnerable to being thrown around, lost, or even worse — stolen. Airlines are not responsible if something goes wrong with an item stored in their cargo hold and certain personal items may not be covered by the airlines' insurance policies either.
Additionally, carrying a laptop onto the plane ensures you have access to any work documents or entertainment materials stored on the device mid-flight. Keeping your laptop with you at all times also helps prevent potential problems when arriving at customs. We got you covered in this guide with the best cabin luggage with a laptop compartment.
1. Aerotrunk Pangolin: Best Budget Carry-On with a Laptop Compartment
Are you a budget-conscious traveler needing reliable carry-on luggage with a laptop compartment? Meet the Aerotrunk Pangolin Carry-On — the ultimate travel companion for tech-savvy travelers who are always on the go.
The Aerotrunk Pangolin Carry-On is a suitcase made with premium Makrolon polycarbonate.
It also features YKK zippers that are durable and smooth. With its reinforced laptop compartment, you can confidently bring your 15-inch MacBook Pro on your trips without worrying about damage.
The compartment is strategically placed for easy access during TSA and airport security.
Aside from its laptop compartment, the Aerotrunk Pangolin Carry-On also has ample space for your clothes, shoes, and other travel essentials. The suitcase can expand by 2 inches, giving you more room to pack souvenirs and shopping finds. With its compact and sleek design, you can easily maneuver through crowded airports and busy streets.
The Aerotrunk Pangolin Carry-On is perfect for a 1 to 3-day trip. It is lightweight, sturdy, and easy to carry around. You can also store it easily in overhead compartments or on trains. And what's even better is that it comes with a 100-day risk-free trial. If you're unsatisfied with your purchase, you can return it and get your money back.
If you're a budget-conscious traveler who values quality and functionality, the Aerotrunk Pangolin Carry-On is the ideal luggage. With its reinforced laptop compartment, premium materials, ample storage, TSA-approved lock, and 100-day risk-free trial, you're definitely getting your money's worth.
2. Nomatic Carry-On Pro: Best Business Cabin Suitcase with a Laptop Compartment
Introducing the Nomatic Carry-On Pro, a professional business cabin suitcase designed to make traveling with your laptop or other tech essentials easier than ever.
Made of durable polycarbonate and featuring silent Hinomoto wheels and TSA locking YKK zippers, this carry-on size bag packs three to five days of clothes while carrying a laptop in its removable tech case that fits up to a 16″ Macbook Pro. With plenty of storage space for all your necessities, you'll have everything you need when it's time to hit the road.
The best part about this suitcase is its tech organization features. It sports several dividers and pockets that allow for customization so you can separate items with ease without having them get tangled together during transit or take up valuable packing space inside the main compartment. The detachable shoulder strap will help relieve stress on your back muscles too.
The Carry-On Pro is the best business carry-on luggage and offers much more than just convenience; it stands out as an incredibly stylish addition to any traveler's wardrobe thanks to its sleek exterior design, complete with branding accents throughout. No matter what type of journey lies ahead, this piece of luggage is sure to keep all your important documents safe and secure while looking good at the same time.
3. Horizn Studios M5: Best Sustainable Carry-On Suitcase with a Laptop Compartment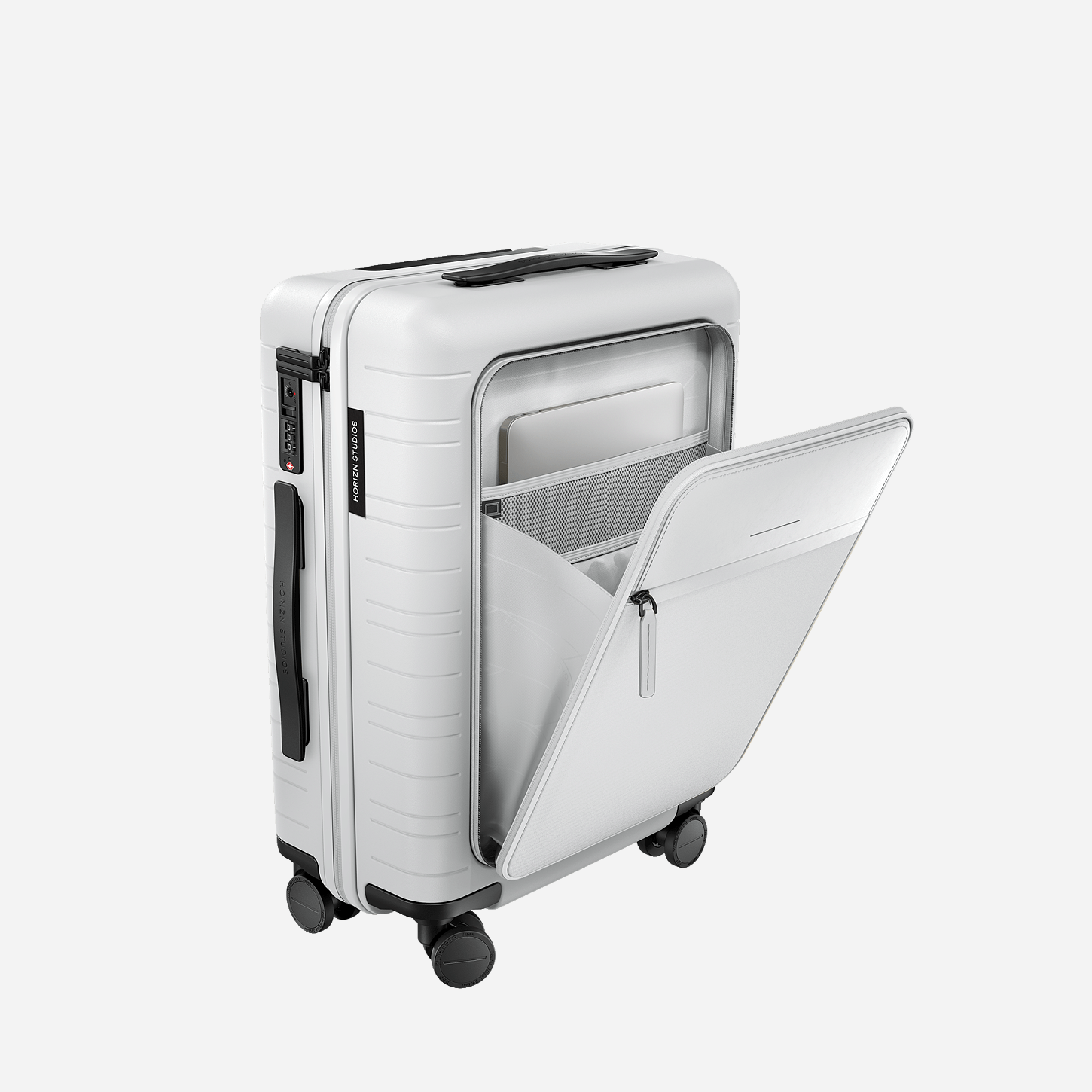 Horizn Studios M5 is a revolutionary new product for frequent travelers. It's lightweight, durable, and vegan-friendly with PETA approval so you can be sure that the materials used are ethically sourced.
The hard shell of this cabin luggage offers reliable protection against bumps and abrasions, while its four 360° Japanese spinner wheels make maneuvering through airports or train stations effortless.
The Horizn Studios M5 also comes with a laptop compartment where you can safely store up to a 15″ laptop and an interior compression pad which helps maximize available space and minimize packing time. Plus, it features a one-click removable smart charger for easy charging on the go, ensuring your device stays powered throughout your travels.
To keep all your belongings safe during transit, a TSA-approved lock has been included in its design along with an additional water-resistant front pocket ideal for storing items such as laptops or documents securely when traveling by air.
Moreover, there's even a premium laundry bag included — perfect if you're away on longer trips and need some extra room in the case when not in use.
In conclusion, the Horizn Studios M5 provides travelers with practical storage solutions and the freedom to travel with peace of mind knowing their items are safely secure.
With its vegan-friendly materials, PETA certification, lightweight yet durable design, compression pad, and TSA-approved lock, this product will surely become your go-to cabin luggage for all future travels.
4. Arlo Skye Zipper Carry-On Max: Best Designer Cabin Suitcase with a Laptop Compartment
The Arlo Sky Carry-On Max with Front Pocket is a must-have for the savvy traveler. This lightweight and stylish bag packs a lot of punch with an innovative, hard-side exterior pocket that fits laptops up to 15″. You'll appreciate the extra protection for your most precious belongings as well as easy access to important items like your laptop or passport through the cleverly designed front pocket.
The luxurious design also features an anti-microbial lining to keep it fresh and neutralize odor-causing bacteria from building up in your bag during long trips.
Plus, its size allows it to be stored in most medium and large aircraft overhead bins! But that's not all — this carry-on comes equipped with 10,050 mAh charger plus 18W USB C & A ports so you can stay powered on the go.
Experience convenience, portability and unbeatable style when traveling anywhere with this designer carry-on offering ultimate protection without any weight penalty. Whether you're off on business or pleasure, maximize every journey with Arlo Sky Carry-On Max.
5. Samsonite Underseat Carry-On Spinner: Best Underseat Cabin Bag with a Laptop Compartment
The Samsonite Underseat Carry-On Spinner is a great way to keep your essentials within easy reach while you travel. Its lightweight construction and four multi-directional spinner wheels make it an ideal choice for rolling through airports or unpaved roads.
It fits conveniently under most airline seats, and the padded laptop compartment can fit up to a 13.3-inch laptop providing maximum protection for your devices during transport.
Designed with convenience in mind, the Samsonite Underseat Carry-On Spinner comes equipped with a USB port allowing you to easily charge while on the go without having to look for outlets or extra cords. The ergonomic push button locking handle provides comfortable grip even after long hours of carrying it around, making sure you don't miss anything from home when traveling away from home.
Finally, its adjustable straps provide added security when used in combination with luggage locks (not included).
The Samsonite Underseat Carry-On Spinner is designed for seamless mobility and superior protection keeping all of your items organized so that nothing will ever get lost along the way wherever life takes you next.
6. RIMOWA Essential Sleeve Cabin: Best Luxury Carry-On Suitcase with a Laptop Compartment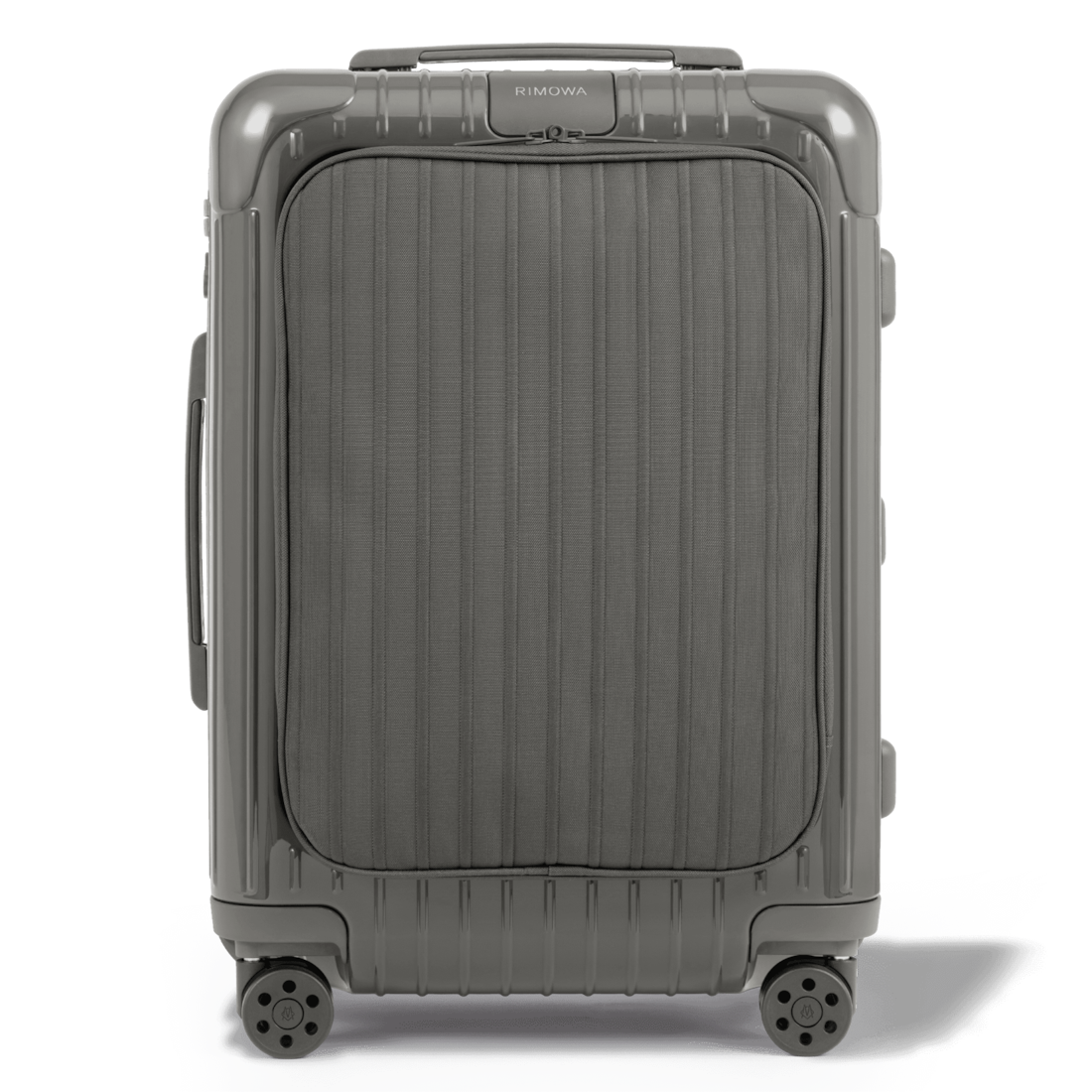 Introducing the RIMOWA Essential Sleeve Cabin — a high-end, luxurious cabin luggage made from polycarbonate that brings together modern functionality and convenience.
Made in Germany to provide the utmost quality and precision, this suitcase is the perfect combination of fashion and function with its sleek, stylish design. It's designed for business trips or short travels of up to 3 days, making it ideal for those on-the-go lifestyles.
The case's main feature is a laptop compartment that can fit devices as large as 16 inches, keeping your electronics safe during travel while still maintaining a comfortable weight.
And thanks to its lightweight construction and four 360° spinning wheels, you can easily roll through airports without any hassle. The interior offers easy access storage via two spacious compartments with adjustable straps so you can keep everything in place while also keeping it organized throughout your journey.
As a special bonus, each purchase includes a complimentary leather luggage tag along with a sticker recognizing the authenticity of the RIMOWA product making it the perfect travel companion.
So if you're looking for sophisticated, practical, and stylish cabin luggage that can cater to your business or personal trips, look no further than RIMOWA Essential Sleeve Cabin. With its lightweight construction, laptop compartment, adjustable straps, customization options, and complimentary items, it's sure to make every journey an enjoyable experience.
7. Travelpro Crew VersaPack Max: Best Carry-On with a 17-Inch Laptop Compartment
The Travelpro Crew VersaPack Max is the perfect choice for professional travelers. This softside carry-on has a laptop compartment that fits up to a 17-inch laptop.
The bag also features multiple interior pockets and compression straps to help you stay organized on your journey. A 100-day trial ensures you're fully satisfied with your purchase before committing long-term.
The fabric construction of the Travelpro Crew VersaPack Max makes it easy to transport — even when fully loaded — while its sleek design means it won't weigh down or stand out from other luggage in the airport or hotel lobby.
It's crafted from high-quality materials that are designed to be durable enough to withstand regular use, so you know your belongings will stay safe no matter where you travel.
Stay powered throughout your trip thanks to the convenient external USB port and dedicated power bank pocket, which lets you keep all of your devices charged at once without having cords running everywhere.
The retractable handle can be adjusted according to personal preference and is sized perfectly for any traveler's height, while extra handles make lifting a breeze. And if carrying isn't ideal, two spinner wheels on each side will let you roll your luggage wherever you need to go.
The Travelpro Crew VersaPack Max is the perfect carry-on for professionals who want an efficient way to travel. With plenty of space, pockets, and compartments, this bag can fit whatever you need and make air travel less stressful than ever before.
Its sleek but durable design makes it an excellent option for all kinds of journeys, so no matter where life takes you, you'll always have a reliable companion by your side. Try it out today with their 100-day trial and travel in style.
8. Level8 Pro Carry-On: Best Hardside Cabin Suitcase with a Laptop Compartment
The Level8 Pro Carry-On is a modern, professional suitcase that makes traveling easier. This sleek and stylish piece of luggage combines convenience and comfort for your next trip.
The exterior is made from waterproof Bayer Makrolon Hard Shell material to ensure durability during travel or outdoor activities. It has ultra-quiet 360° durable spinner wheels so you can move quickly through the airport with ease.
The ergonomic design lets you comfortably carry or wheel it around with minimal effort and less fatigue on long trips.
The spacious interior features a padded front pocket for easy access storage where you can keep a 15.6-inch laptop secure while on the go. Its built-in USB port allows you to charge your devices without having to reach into the bag's main compartment — perfect for charging up before boarding an airplane.
Additionally, this carry-on comes with an adjustable strap inside so that clothes won't fall out as quickly when rummaging through your suitcase mid-flight.
All these features make the Level8 Pro a high-quality hardside cabin luggage with a laptop compartment.
Why Business Travelers Should Travel with a Carry-On with a Dedicated Laptop Compartment
When you're a business traveler, it's essential to pack effectively while still ensuring that you have everything you need.
A carry-on with a dedicated laptop compartment is an excellent choice for travelers, as it saves both time and effort in having all the necessary items on hand.
This compartment makes it easier and much faster to access your laptop compared to a traditional suitcase, where you'd have to rummage through clothes and other items. Not only does having this purpose-built space improve efficiency, but it also prevents any potential damage to your device; so vital when transporting fragile equipment.
As such, investing in a carry-on with a laptop compartment should be top of the list for any frequent business traveler, especially if you have a presentation due or are meeting clients.
Conclusion
After scouring the internet and testing out a few different models, we've concluded that the best carry-on suitcase with a laptop compartment is the Horizn Studios M5.
This carry-on has everything you need in a travel companion — it's durable, sustainable, vegan-friendly, and most importantly, it has a dedicated space for your laptop. If you're looking for a reliable carry-on that will make traveling with your laptop a breeze, look no further than the Horizn Studios M5.
---
Frequently Asked Questions
Does a laptop bag count as a carry-on?
Whether a laptop bag counts as a carry-on will depend on its size. Generally, if it fits under the plane seat, it is considered a personal item and can be brought aboard without counting against the passenger's carry-on allowance. Anything bigger will be counted as a carry-on and should be placed in the overhead bin.
Can I bring a laptop bag and a personal item?
Yes, you can. The personal item should be able to fit under the airplane seat, and the laptop bag would be considered carry-on luggage. However, be careful. Nowadays, budget airlines charge for carry-on luggage. Be sure to check with your airline's carry-on luggage policy to avoid unwanted excess baggage fees.
Can you take 2 carry-on bags on a plane?
Even though it might seem like a great idea to double up your carry-on bags and tote around two chic suitcases, it is not an option for most of us poor plebeians.
Unless you're in a higher air class, such as premium economy or business class, you typically have to make do with only one carry-on bag. Whether it be essential items or souvenirs from your last vacation, the airline allows for only one check-in bag and one carry-on bag for most people. So don't push your luck. Better be content with one instead of trying to get greedy with two.